Ci presentiamo: siamo Paolo e Consolata, droneresi di nascita e montanari per passione, franchi spiriti d'OC.
Costretti per lavoro alla frenesia della capitale sabauda, negli anni è germinata in noi l'esigenza di rivivere e disvelare al mondo la bellezza verginale della valle Maira: così, nel lontano giugno 2006, incoraggiati dal successo olimpionico nella riscoperta del territorio piemontese, è sbocciato l'Agriturismo Alpes d'OC Morinesio.

La nostra scelta non è stata casuale: in un borgo di pietra redimito dalle montagne, abbiamo dato nuova vita ad un fatiscente rifugio garibaldino, ricreando un'atmosfera conviviale e ruspante, genuina ed accogliente, incorniciata nella magnificenza della valle.
Vi aspettiamo, almeno per un caffè (corretto).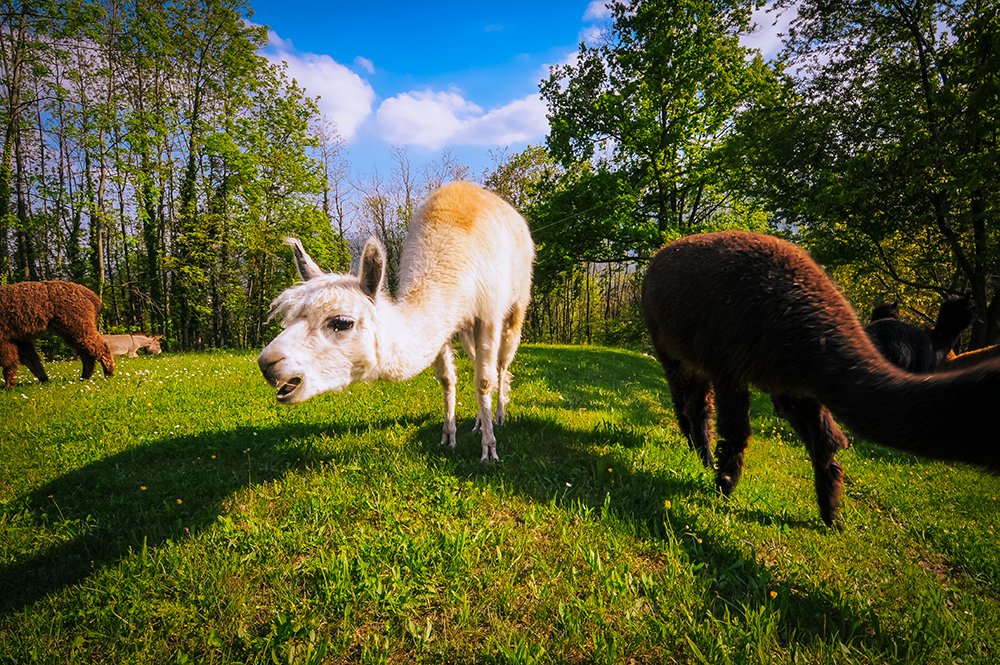 One day, a farmer asked us to take care of his sick donkey, otherwise destined for slaughter: we accepted.
Ma l'asino è un animale estremamente socievole, non poteva vivere in solitudine: ne vennero altri.
After this, it was the turn of the alpacas: tame, gentle, occasionally timid, creatures, soon they established a relationship of peaceful coexistence and tolerance with their fellow lodgers with the long, dark ears.
E nacque dunque la nostra tribù: da una parte i sardi somari Fefè, Lola, Heidi e Romeo, socievoli e maldestri; dall'altra, i nostri soffici camelidi Mosè, Alina, Eros, Bernardo, Benur, Anna, … alteri e splendidi.
Ci scusiamo se non potremo in questa sede menzionarne tutti i membri, ma nel tempo la tribù si è poi regolarmente allargata. Ognuno sceglie i suoi compagni di avventura, ma noi non sappiamo scegliere.


Abbiamo fatto dell'autarchia verde, per quanto possibile, la nostra missione.
L'azienda agricola si trova esclusivamente in area montana; i terreni sono lontani da strade, insediamenti vari, allevamenti di ogni tipo.
Le coltivazioni vanno dai 650-700 m slm di Dronero ai 1500 m slm di Morinesio di Stroppo, dipende dal frutto. Pratichiamo esclusivamente colture biologiche, anzi, "doppiamente biologiche": è presente il bio "naturale" dei terreni, scelti in aree di totale salubrità ambientale; è presente il bio "colturale", perché le coltivazioni avvengono secondo metodologie rigorosamente naturali (più qualità, meno quantità) e seguono scrupolosamente il disciplinare bio dell'ente di certificazione.
We are certainly not short of green fingers.